God's Helper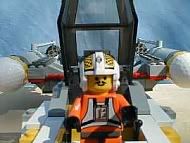 Join: April 26th 2004 12:17 am
Posts: 581
The website has been updated with a video looking at the midnight release of Episode III in Hollywood at the Virgin Megastore.

We're expecting to have dvd's available in the next two weeks.

To clarify:

Recently, we received some fan emails regarding the production known as Star Wait. I would like to clarify that we are not affiliated in any way with Star Wait or its production. We are also not affiliated with Starwoids.

This is a completely different project with a much different scope and focus.